The Biddy Walk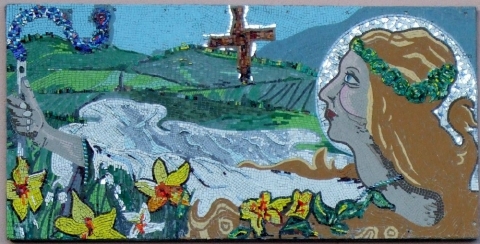 St. Brigid is one of Ireland's best known and most revered saints. She has been known to generations of Irish people as 'Muire na nGael' – 'Mary of the Irish'
St. Brigid's Feast day falls on the 1st of February and signals the beginning of Spring. On this day nature was thought to awaken from its long winter sleep and prayers and petitions were made to Saint Brigid to bless the crops.
In traditional Irish culture, people trusted in Brigid's power to keep them safe. On the eve of St Brigid's Feast Day, people performed many rituals through which they sought Brigid's protection for themselves, their families, their crops, and their livestock. There were three parts to the rituals:-
1. Brigid was welcomed into the community.
2. There was a meal in honour of St. Brigid.
3. St. Brigid's Crosses were made.
In some communities, especially in Kildare and in Kerry, the welcoming of Brigid took the form of the 'Brideog' procession or the 'Biddies'. Groups of boys and girls dressed up in costume and carrying a brídeog (a representation of Brigid – usually a straw doll) went from house to house. They sang, danced and played music in return for foodstuffs and money. They would then gather in one house or hall and have a céilí (a party with music, dance and food). Their catchcry was often: "Here comes Brigid dressed in white, give her something for the night".
A few years ago, Scoil Bhríde developed its own version of 'The Biddy' .
1. To herald the beginning of Spring the school community walks from the school, around the park and back to the school hall. The children carry torches and lanterns to commemorate how Brigid was a woman of peace, bringing light to the darkness.
2. The PTA organises refreshments in the hall.
3. There is an opportunity to look at the children's artwork depicting the many stories of St. Brigid.
We look forward to meeting you all  on Sunday 31st January, for the 2016 Biddy walk, starting from the school at 3:00 pm. In keeping with the tradition of the Biddies collecting money, there will be donation boxes in the school!! St. Brigid is known for her many skills and talents including creativity. All donations will go towards the production of the Sixth Class end-of-year musical.