6th Class History Trip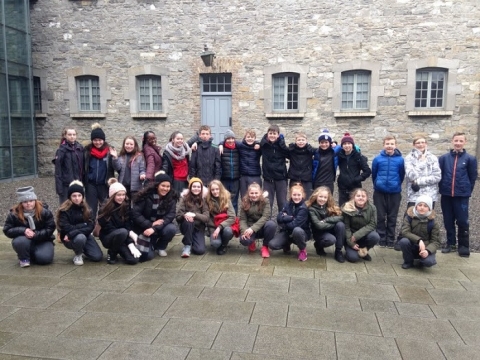 Last Wednesday on the 14th of February Múinteoir Rory's class went on their school tour to Glasnevin Cemetery and Kilmainham Gaol. At nine o'clock we got on the bus. Then we took our seats and headed off.
We reached Glasnevin Cemetery in an hour or so. All of us got off the bus and got in a line. We had to stay beside our friends in case we got lost. We met our tour guide, his name was Niall and he was super nice.
Niall showed us some things like Grace Gifford's grave, Michael Collins' grave, Countess Markievicz's grave and lots more. Niall told us some funny stories and some sad ones. We went and had a look at Daniel O'Connell's tomb. In his tomb there was his coffin. We got to touch it! Also in his tomb were his family's coffins they were stacked one on top of the other. We went for lunch at 11:15 until 11:30. Then we said goodbye to Niall. And off we went on our next trip! All of us got back on the bus and sat back beside our partners.
It took about 15 minutes to get to Kilmainham Goal. Our tour guide Adam brought us to the chapel first where Joseph Plunkett and Grace Gifford got married before Joseph was executed. Then we went to the west wing (which was freezing because they had limestone walls). We then went to the 1916 leaders' cells. Pádraig and William Pearse didn't know they were in the cells right beside each other. Countess Markievicz was a very brave woman because the soldier said he wouldn't shoot a woman but she said "would you not have the decency to shoot me?". Then we headed to the east wing which is the modern part. Down under the east wing is the kitchen and laundry room. One woman started to dig an escape tunnel with just a spoon. After that we went outside to the execution yard where the leaders were killed. We walked out to the old execution area where the hanging took place. Finally we took a class picture which you can see.
We got to school at 2 0'clock. It was an amazing tour – we would love to go again. That was our history tour report. Thanks for reading!
By Grace Curtis and Alannah Prizeman.